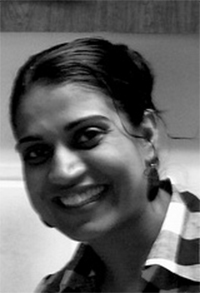 Name: Roopali Gandhi
Research Description
Dr. Roopali Gandhi was born in India and obtained her PhD degree in Immunology where she studied auto-antibodies in Systemic Lupus Erythematosus. She joined the Weiner lab in the Center for Neurologic Diseases at Brigham and Women's Hospital in 2004 as a postdoctoral fellow and was promoted to the rank of Assistant Professor in 2013.
Dr. Gandhi's research interests include basic and clinical immunology in the context of autoimmune diseases. Recently, she has found a specific pattern of miRNA expression that can distinguish different stages and predict response to therapy in Multiple Sclerosis (MS). She believes that miRNAs provide new avenue to understand immune regulation in complex autoimmune disease such as MS and circulating miRNAs have a great potential to serve as biomarkers for MS.
Dr. Gandhi's major research objectives include: (1) Identification of immune biomarkers in (MS) that could a) measure disease activity as defined by clinical and MRI activity; b) determine or predict therapeutic efficacy of drugs; c) correlate to the disease progression. (2) Association of gut microbiome with disease in MS patients. (3) Study of molecular mechanism that governs regulatory T cell biology in healthy individuals and MS patients.